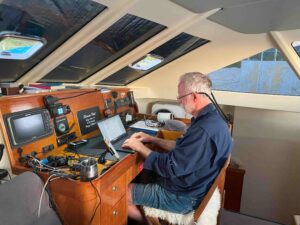 During the quite part of the morning I decided to do some online consulting work. Three of the crew had gone to hike Cooks Look and the rest were just rousing.  I was sitting at my Navigation table/workdesk aboard 'Favourite Child' while we anchored in Watsons Bay at Lizard Island, Far North Queensland.  It was blowing hard and the forecast was for wild weather for the next six days.  Squally clouds scuttled across the sky.  It was 0742 hours.
The VHF radio, always tuned to channel 16 and sitting behind my laptop, suddenly blared.
"Mayday, Mayday, Mayday. This is Escapee. We have hit a reef six miles east of Lizard Island"
I waited.  There were 11 yachts in the Watsons Bay and the Lizard Island resort was only a few hundred metres away.  After ten seconds and no response from anyone I grabbed the microphone.
"Escapee', This is Favourite Child, please repeat your position. What type of vessel are you and how may persons on board?"
The reply was quick,  a sense of urgency in the tone .
"Two persons, 52 foot ferrocement ketch.  Six miles east of Lizard'.
I had flicked on the charts and fired up my phone Navionics.   There was no reef six miles east of Lizard Island.
I radioed Lizard Island Resort on 16. No reply.   Yesterday I was kiting at the Blue Lagoon and met a very friendly fellow Kiter and catamaran yachtie who worked at the resort and he had told me they monitored channel 74.  I called on that and got an immediate response.    Their initial thought was that the yacht might be on Macgillivray Reef – but that was just over a nautical mile east of Lizard.  There were shoal patches about 4nm away to the Sou East.
Three of Favourite Childs energetic crew had left to climb Cooks look half an hour prior. I sent a text to them to get to the top and see if they can spot the yacht.
'Escapee, Escapee, this is Favourite Child.  Could you send your lat and long position.'
We now had a position – on the eastern end of Waining Reef,  15nm nor west of Lizard.
My guess was that his message was that we were six miles east of Escapee.
Lizard island responded and I overheard their conversation with the vessel Pisces, a 56ft Riviera power boat.  They were preparing to leave to assist.
Back on the VHF I could not hear anyone calling Escapee.   I let them know that support was on the way.   They seemed calm, stating both were okay and in no immediate danger of sinking and were not taking water.
Another call came in from the vessel 'ASIF'. We had trouble finding a frequency to communicate on and ten minutes later a centre console inflatable pulled up alongside.   Aboard was Ian, he had come over to offer help.  His boat was a 60ft Power cat, capable of 22 knots.
On the radio we heard that Pisces were in rough seas and heading to Waining Reef.   Shortly thereafter they radioed to say they had lost their dinghy and motor.
Ian offered to help with ASIF.   He and his partner Angela had been fishing the calmer patches north of Waining reef only a few days prior and knew the area well.   I grabbed my hand held VHF, wetsuit and booties and my son Baden joined us, jumping aboard Ian's dinghy.   Ten minutes later we had the dinghy craned aboard and he was firing up the powerful engines for a fast trip North.
Despite a few decades on Multihulls, I have never been at sea on a large power catamaran.   One word for it.  Impressive.  ASIF leapt through the 2 metre swells with very little roll and cushioned landings in the short steep seas.  We had an accurate position and an hour later we approached Waining Reef a few minutes behind Pisces.  Ian's thought was there was little we could do from the windward side.  Escapee had an anchor out and was currently pointing into the breaking waves and her keel pounding on the reef edge.  Her crew remained calm and both vessels conferred regarding options.
Aboard ASIF we went east, through the passage between Waining and Parke Reef and then into calmer waters behind Waining.   It was 0930 hours and approaching low tide.  Escapee had fuel blockage and thus no motor.  Her rudder had been damaged and the headsail looked wrapped and was flogging in the constant 20 knot breeze.  Her skipper, Mark, said he had also lost a mast shroud so the mainsail could not be raised.   Few options remained – the crew lives came first and there was no way to haul a 52 foot, probably 40 tonne yacht off the reef into 1-2 metre breaking seas,
We anchored ASIF behind  Waining Reef and craned the tender in.  Donning my wetsuit, with Ian on the helm, Baden and I joined him for a slow motor across the reef.  Angie was left to hold to fort on ASIF and prepare for potential shipwrecked sailors.
Pisces came up on the VHF and stated AMSA requested that Escapee turn on their EPIRB.
Aboard the tender we approached about 50 metres behind Escapee, in the whitewash of the grinding coral from Escapee's hull.
Piscies relayed that AMSA had a rescue helicopter and Jet en route – the chopper 70 minutes out.  AMSA requested that unless the crew were in imminent danger they wanted the crew to stay aboard and to prepare to be lifted off.
We anchored ASIF's tender and waited.
I knew, unfortunately from previous experience, that a helicopter rescue meant that nothing but a wallet and passport would go with the crew.
Ian suggested they package some gear, tie it to lifejackets and toss it overboard.   We could pick it up for them.   The skipper agreed and what could be safely bound was launched and retrieved as it washed over the reef.  The skipper on Escapee had tried to get their dinghy launched prior to our arrival and it had flipped and was dragging in the surf behind their boat.  He had been aboard the dinghy at the time and it was a desperate scramble to climb back aboard the yacht
'Ian, I think their anchor has let go – the chain looks slack' I commented.   Escapee started to slew sideways gradually with each big wave.
The skipper released their capsized aluminium dinghy and it gradually drifted over the reef until its anchor grabbed.  I swam over to it, flipped it upright and secured the fuel containers.
Escapee continued to punch sideways and with each wave her list increased.   She started to take water.
The rescue helicopter was ten minutes out.
"We are going over" the skipper of Escapee radioed. "We are preparing to abandon and jump into the water"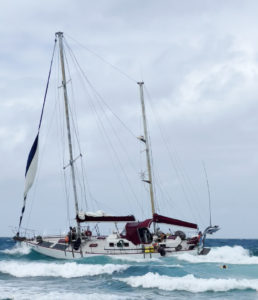 The Chopper was three minutes out when Sarah, one of the two aboard Escapee, jumped onto the water as the port rail went under water.  She was fully clothed to protect from the reef and had her lifejacket on.   I climbed forward over the coral  and helped her to the tender while Ian and Baden got her aboard.   The skipper had gone into the water in the meantime. Escapee was now beam on, her rail under, she had been taking water and could have slipped down the reef into deeper water or rolled onto her side and they would have been trapped in rigging and debris. The Rescue Helicopter was above.  The skipper, Mark, was wearing flippers and lifejacket and calmly floated on his back through the surf over to the tender.   The helicopter remained above us on station.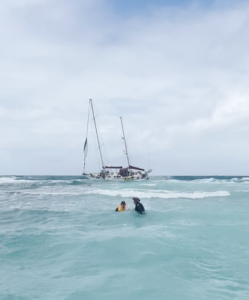 With the crew safe and a loaded tender, Ian carefully wound our way over the 500m of coral rubble back to ASIF.  Angela the angel was ready with towels, warm drinks, showers and support.   Mark and Sarah were happy to be safe but still mid catastrophe as Escapee was pounded sideways in the increasing surf.   The weather was expected to deteriorate and it had.  It was a steady 25 knots and the wind now against tide – standing the seas up short and steep.
The AMSA rescue helicopter held station until we were all safe aboard ASIF.  After they left the rescue Jet arrived to survey the scene.
When everyone was fed and settled Ian fired up the big Cummins engines on ASIF and we motored out into the seas. The run back was straight upwind.   Ian capably  tacked to avoid pounding directly into the waves.  We took a few over the bows but the twin hulls cushioned the landings and other that having to hang one the two hours back to lizard island went by in conversation and stories.
Like most marine disasters it is rarely ever one thing that goes wrong.   Escapee had suffered a headsail wrap the previous day and they decided to continue under Main downwind.   Then a mainmast shroud had parted and that left only the mizzen and engine.  So they comfortably motored into the evening. Then the engine stopped.  A fuel blockage, difficulty clearing it, so they sailed under Mizzen.  Escappe attempted to sail into Watsons bay but could not make windward ground so decided to drift until daylight.   Currents, persistent 20 knot winds and limited manoeuvrability pushed them North west toward Waining Reef.  They got into shallower water – 15 m – and anchored – with the goal of fixing the fuel problem.   But the anchor chain clip failed and it ran out – pushing them back toward the reef and in the building seas, eventually on it.  That was at 0742.   I had just sat down at my nav station to do a bit of work.