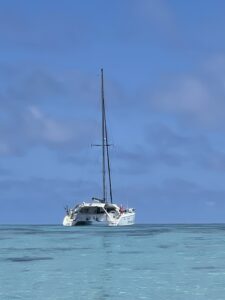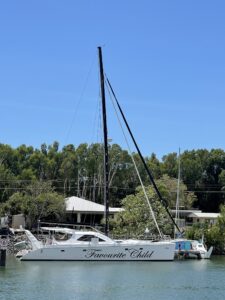 It has been ten months since I have blogged on the Multihull Books site.   In that time we sold our Crowther 43 and purchased a Roger Hill 15.9m catamaran.   This boat – at 53ft – is way out of my league in size, price and performance,  but opportunities only knock once and we grabbed at the chance.  It was a stressful few months trying to pull the purchase together – after the sale of our Crowther 43 we then sold everything not bolted down in the yard – the camper, the 7m Markham dominator canyon runner power cat, the tinnie – even my Landrover went to get us over the line.   Working over 140 days straight also helped.
Our new cat was built in 2004 by Steve Bull. You might know of some of his work.  The company is Matera Yachts and their build speciality is performance catamarans – most recently the AC72's –  Team New Zealand and Prada! ( https://www.materayachts.com/construction).   Originally launched as Eye Spy, it was sold in 2010 and sailed to Australia, renamed 'Eye Spy DJ'.   We are her third owners.    We have kept the name from our Crowther 43 and renamed Eye Spy DJ as 'Favourite Child'.
Favourite Child was built to Survey and in full 1A, 2C Survey when we purchased her.   Over the past ten months the projects have been rolling as we set her up as our new home.   We had no intention of using her commercially so we withdrew the survey certificate and began making her lighter and faster.   Off came the extra fuel tanks, the 30 lifejackets, the second 10 man life raft and the defunct generator.  We removed lots of stainless and cloth when removing the soft top bimini.  In went a washing machine, a new hot water service and on went a hard top bimini and new solar panels.   The charter cruise sails were purpose designed.  We have replaced the jib and screecher and the new main is on the way – all in double taffeta Carbon.   Already she is speeding up.